February 6, 2018
How to Improve Your Communication Skills Before Your Next Interview

HigherEdJobs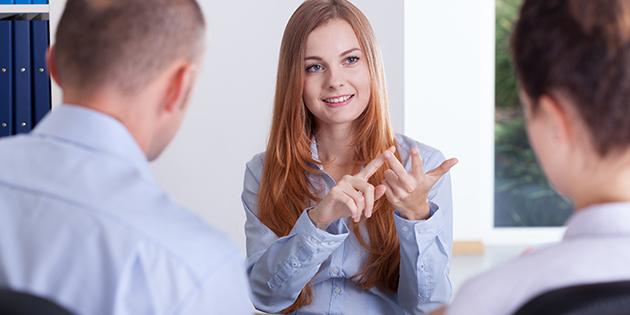 2016 survey
by the National Association of Colleges and Employers, verbal communication was the top skill employers want in new employees.
In a faculty interview, you'll meet with several faculty members, each with different expertise in your fascinating but narrowly-focused work on hearing in fish (my Ph.D. work!) or 19th century French literature. To land the job, you need to communicate the importance of your research during one-on-one interviews, at meals, with campus administrators, and during the all-important job talk. Communication is just as important when you apply for jobs outside of the traditional tenure track path -- in academic administration, student success, tech transfer, outreach, or other fields. How do you prepare and practice these critical skills? Here are three key tips.
1. Get a Pitch
An elevator pitch is a short introduction to you and your qualifications. The name comes from a scenario so many job seekers want, yet dread -- the minute in the elevator with the employer of their dreams. How do you make a great first impression? A great elevator pitch is the perfect response to that age-old interview question, "tell me about yourself." It starts a conversation and provides enough to allow the interviewer to ask follow-up questions, or to relate your experience to their interests.
An elevator pitch should have a clear opening, body, and conclusion. The opening should introduce you and your current position (graduate student at Alien University) and set the tone for your pitch. The body should provide some key points about you -- a bit about your research, teaching, or administrative work and why it matters. Finally, you should wrap up with a few statements about why you want this job, and how it relates to your experience.
The bit about "why it matters" is key! So often we get sucked into the details of our work that we forget to step back and remember the big picture. Nancy Baron, director of Science Outreach at
COMPASS
and author of
Escape from the Ivory Tower
, offers a great tool -- the Message Box. This simple tool helps you to clearly articulate the main points of your work -- what is the big-picture issue you study, what problem do you address, and what is a solution you've discovered? Even more importantly, the Message Box helps us to highlight the benefits from our research and why the interviewer should care (the "so what?"). Once you craft your pitch, practice a few different versions -- you'll highlight different aspects of your work for a faculty interview than you would for an administrator or a non-profit organization, so have a pitch tailored to each audience. Don't memorize the entire pitch -- that can sound weird over lunch -- but know your opening line and the ideas you want to convey.
2. Get Feedback
We know what we mean to say -- so we think we make sense, even when we don't. Experts call this the "
curse of knowledge
." Once we understand something, it's hard to remember not knowing it, so it's hard for us to know what we need to explain. Think about your organic chemistry professor in college as an example.
Once you've prepared your elevator pitch or job talk, practice with a friend or family member outside of your field. Pick someone you trust to give you supportive yet honest feedback -- did your pitch or presentation make sense? What was clear, and what could be clarified? Where did you use jargon that bogged down your message?
Just as importantly, ask for feedback on what you did well. We're usually our own worst critic, so we focus on the negative and forget the positive aspects of our performance (speech, exam, most recent date, you get the idea). Ask your trusted evaluator to help you identify your strengths. Did you come across as sincere? Did you have a great analogy to explain your complex statistical model? Build on your strengths.
3. Get Trained
Just like going to the gym, our verbal communication muscles improve with practice. Check out a local
Toastmasters
club -- this international organization has almost 100 years of experience helping people from all walks of life become stronger communicators and leaders. With clubs in over 140 countries, you're sure to find a club near you.
For those more scientifically-minded job seekers, several organizations offer specialized training to help scientists and technology professionals confidently communicate with diverse audiences. The
Alan Alda Center for Communicating Science
conducts annual summer boot camps led by teams of scientists, journalists, and theater professionals.
Science Talk
, a professional science communication organization, offers annual conferences that provide focused workshops, career panels, and networking events. The 2018 conference is March 1-2 in Portland, Oregon, featuring topics such as data visualization, using marketing principles for communication, and communicating controversial topics.
ComSciCon
specifically caters to graduate students, offering regional workshops on topics such as digital storytelling and science communication careers. The American Association for the Advancement of Science provides
Communicating Science workshops
for organizations and institutions. Find the opportunity that best works for you.
Want to stand out at your next job interview? Communicate clearly. Practice your pitch, invite feedback, and seek out professional development to hone your communication skills.
Article Topics

Job Search Advice
You're interviewing for a job! Whether it's a faculty position, administrator, student services role, or a job outside of academia, all of these positions require some similar skills. One core skill requirement? Communication. In a