September 15, 2020
Thank You For Your Service is Not Enough
HigherEdMilitary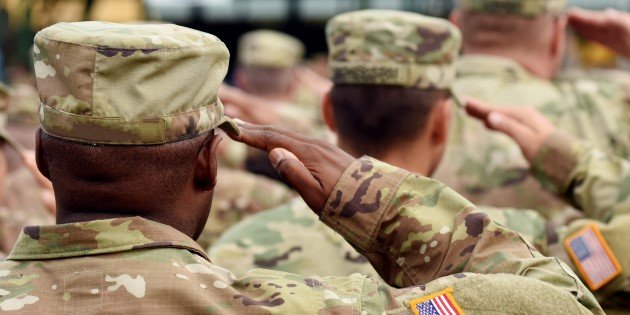 Forward
Greg White and Jeff Pearson are faculty and staff at The College of St. Scholastica in Duluth, Minnesota. They were hired as part of a four-year HRSA grant project intended to increase enrollment and retention in a Bachelor of Science in Nursing program, with an emphasis on veterans and rural health experiences. Through this program, The College of St. Scholastica was able to increase veteran admission and graduation from their program by 125 percent, leading to the College choosing to continue supporting the project after grant funding had expired. The following article is based on the experiences of the authors, and their daily interactions with student veterans navigating higher education.

Who are our Veterans?
The United States has been in a constant state of large-scale military conflict for the last 20 years, with an increasingly small percentage of our population choosing to serve in the military. Despite the gravity of this decision, and whatever experiences may follow in their service, the vast majority of veterans report that joining the military was a good decision. This is supported when we evaluate initial motivation for military service, which has consistently been access to the military's generous educational benefits, leading to post 9/11 veterans attending and graduating from college at significantly higher rates than the general population.
The increased presence of veterans on academic campuses across the country has created significant opportunities for higher education in the form of increased revenue potential and greater diversity in their student body, however it has also presented barriers as colleges struggle to best serve this population. While some institutions have developed comprehensive plans and resources to support these students, others have relied primarily on recognition and expressions of gratitude. While well-intended, this reliance can create barriers to meaningful reintegration of our veterans into the civilian world, and can potentiate a sense of "otherness" among these students. Additionally, this focus on recognition as support can easily lead to the perception that our veterans have shouldered an insurmountable burden that makes them either heroes with their best years behind them, or broken through the service of their country - requiring constant affirmation. In our experience with veteran students, the opposite is true. While they may have slightly different needs than traditional students, the vast majority are looking to leverage their educational benefits in order to better their life and situation. They are non-traditional students who want to have their life-experiences valued in the classroom as a part of their identity, while working to ensure that their service does not define their future.

Working with Student Veterans
The military teaches veterans to treat authority figures with a degree of respect, and this idea applies to faculty and staff in higher education. Still, there is an important distinction between treating somebody with respect and truly respecting them. In order to establish genuine rapport and credibility among student veterans, here are a few ideas we think are key:
First, like any sizable population, there is great diversity among veterans. Not only do they come from diverse backgrounds, but they also have vastly different experiences while in the service. Being cognizant of this diversity helps avoid the pitfall of making assumptions and generalizations about all veterans. Similarly, being a veteran is only part of their identity. Conversations should not solely relate to the military. These are fascinating people with unique hobbies, families, ambitions, career interests, etc. While important, their military experience is only part of what has formed them as a person. At the same time, in many cases students will be eager to talk about their time in the military. When this happens, it is completely fine if you have little to no knowledge about the military. Veterans will not hold that against you as long as you are willing to listen and learn.
A second important point to consider is that veterans are often older learners. They are bringing in impressive skills and impactful experiences they gained while serving. Consequently, they need to be treated like adults. They are not making the jump from high school like traditional learners. If you treat them like an adult and show them respect, many of them will respond in kind.
A final concept we want to share is the importance of following through. In other words, if you tell student veterans you will do something, you better do it. They can quickly tell if somebody is both sincere and reliable. Faculty and staff that keep their word can quickly gain favor and build a lasting trust.

What is "Military-Friendly"
An important question in higher education is what it means to be "military-friendly." This is a timely topic because many schools are quick to brand themselves with this term. While gestures of gratitude like "Thank you for your service" are common, these words can ring hollow if not accompanied by supportive action. One way that institutions can remedy this is by ensuring veterans have access to resources that meet their unique needs. As an example, many veterans become accustomed to communicating in a brief or bulleted fashion while in the military. When put to paper, this type of communication highly contrasts academic writing. Providing a quality writing center on campus can help veterans overcome this challenge. Similarly, like any student, veterans may have a medical or psychiatric diagnosis which makes them eligible for academic accommodations. Many veterans, however, may find it difficult to engage with their institution to ask for help due to a concern for privacy or feeling of weakness. It is important that we identify these students if they begin to struggle and help them access the services they need.
Additionally, we have found that veterans who are engaged in the campus community are more successful. Provide them opportunities to get involved in clubs and other activities. Be sure they have been able to meet other students. Do not allow your student veterans to struggle in isolation. They have the potential to be strong students, but can only influence your institution if they are engaged.
Lastly, make veterans EARN academic success. It is the responsibility of faculty and staff to position all students for success, but the final effort has to be on the student. It is a relatively easy pitfall to grant increased leniency (without formal accommodations) to students we value, however this can affect preparedness to enter professional practice. In our experience, the vast majority of student veterans are ready and eager to put in that effort to get their degree. We simply have to do our part to help get them there.
Veterans are an asset to any institution, academic or otherwise, with their leadership talents, drive, and desire to serve. It is important that we work to integrate these aspects of their lives and service into their education, whenever possible, and provide them resources to help them transition from military to student life, and to prepare them as best we can for success after their service is complete. "Thank you for your service" is simply not enough.
Article Topics