October 21, 2020
Building a Veteran Employee Resource Group (VERG) on Campus

HigherEdMilitary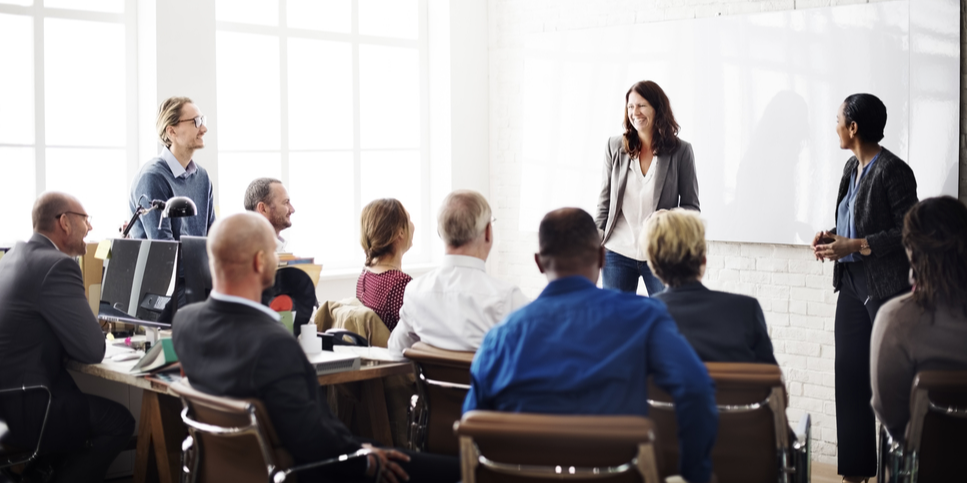 Rawpixel.com/Shutterstock
Managing employee engagement during a global pandemic can be challenging - especially in the higher education sector, where the main focus is ensuring student success as they transition to a remote learning environment. However, at a time when employees are also grappling with work-life balance, fear, anxiety, and isolation, executive leaders in higher education are looking for creative ways to keep employees engaged. These might include virtual workshops and seminars on self-care, professional development, and mentoring to assist in productivity and retention while meeting diversity and inclusion goals.
Employee resource groups (ERGs), also known as affinity groups, provide an opportunity for individuals to engage personally and professionally while creating a sense of belonging within the organization. More importantly, ERGs create a space for employees with shared identities and sense of purpose to come together as a community. ERGs are commonly established for minority groups, for women, for LGBTQ+ employees, and for veteran employees.
As Veterans Day approaches, I thought it would be fitting to focus on veteran ERGs, their emergence at higher education institutions, and their value for and impact on veteran employees, military affiliates, students, and the overall college community. Veteran employees working in higher education are also in a unique position to support veteran students, providing a sense of camaraderie and bonding that is commonly sought among those who have transitioned from military to civilian life.
Cuyahoga Community College (Tri-C®) located in Cleveland, Ohio, launched their veteran ERG (VERG) this summer via Zoom. According to co-chair Mick Muñoz, "Our VERG started small, and in a virtual format due to COVID-19, but already I can see the camaraderie, the sharing of stories, and the joking and ribbing from one force to another that makes everyone laugh." Members of Tri-C's VERG will begin setting goals, objectives, and measurable strategies for employee engagement through mentoring, orchestrating celebrations to honor veterans throughout the academic year, and devising a plan for recruiting new and existing employees to the group.
The best strategy for beginning to build a VERG is to identify individuals within the organization who have self-identified as former or active duty service members or military affiliates. Contact your human resources office for assistance and support in providing this information. You may want to solicit the help of other veteran employees at the college to help build and recruit members to the VERG; however, you must understand that not every veteran employee will want to join and engage. Additionally, civilian employees may be interested in learning more about the experiences of their veteran colleagues and connecting on a personal level.
A successful veteran ERG provides:
A place for social engagement among veteran employees.
Support and camaraderie for veteran employees.
A mentoring platform to help veteran employees learn how to build a career and navigate their professional life at the college.
Insight for non-veterans about the valuable assets veterans bring to the workplace, help in dispelling myths around the military experience, and an opportunity to elevate the college as a veteran-friendly employer.
Mentoring support and guidance for student veterans.
It is essential to agree upon and establish a clear purpose for the VERG early on. Whether or not the sole purpose of the VERG is to engage and support veteran students and employees, it is essential to identify employee volunteers who will passionately champion members' needs and desires as group leaders. Once employees have assembled in the VERG and achieved a level of comfort with one another, the group may decide to develop an organizational structure.
The Department of Veterans Affairs recommends the following steps:
Develop a business plan to include bylaws, objectives, and goals; identify chairs; and formulate a membership and outreach strategy.
Schedule ongoing meetings to discuss member experiences, challenges, needs, and successes.
Establish a desired form of communication (e.g., email, social media).
Develop a communication plan for promoting the VERG throughout the organization.
Solicit the sponsorship of senior leadership or human resources to represent and support the group.
Finally, as you work to build a culture of inclusivity for the VERG, be sure to check in frequently with group members to solicit feedback, which will help build ongoing engagement and commitment.

Magda Gomez is the director of Diversity and Inclusion at Cuyahoga Community College.
Article Topics