December 16, 2020
Making a Big Impact with a Small Team

HigherEdMilitary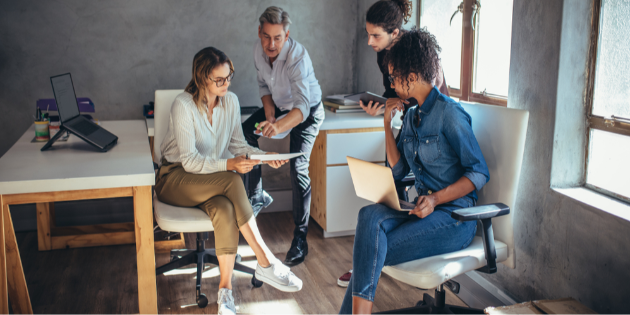 Jacob Lund/Shutterstock
When significant concerns arise in higher education, most of us have a similar and typical response: we create a committee! This committee is tasked with reviewing the matter, brainstorming ways to address it, and ultimately implementing a solution. If the concern is complex, such as diversity and inclusion on campus, we may create an entire task force or a department dedicated to addressing issues for the long-term.
Overall, this approach can be very beneficial. We receive multiple outlooks from each member's different backgrounds, and work can be divided among the team to those that are most interested or best fit for a task. However, the approach takes time and usually a bit of money that not all institutions may have to spend. So, what are these institutions supposed to do?
This may seem a bit daunting, but a committee is not always necessary for an organization to make strides towards a solution, such as becoming more diverse. Frankly, all you need is one or two people that are willing to focus on the initiative or, at least, a section of that initiative.
Clemson University has created an award-winning program to hire veterans as part of our diversity initiatives. In less than two years, we did so with only myself, a recruiter focusing on it part-time, and my supervisor.
Now, don't get me wrong - this was by no means an easy task to accomplish. However, it is very doable. To get started, here are three essential steps to overcome your first obstacles: doing your research, gaining written support, and asking the question.
1. Doing Your Research
As with any new initiative, you'll want to do some benchmarking. Look into what other institutions in your state are currently doing since there may be state-specific laws that you will need to follow. Afterward, you can start broadening your scope by reviewing the initiatives of institutions in your region (such as southeast), research division (such as R-1), or even conference (such as the ACC).
In doing so, you will gain a good understanding of where you currently stand in "the competition" and where you aspire to be in the next year or so. You will hopefully get some ideas of programs or tasks you can implement for your own organization as well.
Example in practice: I looked at many higher education institutions and private sector organizations' career websites to see if there were things we could add to our website to help attract veteran applicants.
2. Gaining Written Support
Now that you have a few ideas on starting this initiative at your own institution, it's time to gain written support from your organization's leaders. You may be thinking, "If I am the only one working on this right now, then why do I need to do this so early on?" Well, you may only be implementing things you can currently control, such as seeking out specific events or offering resume assistance to veterans. Still, the long-term goal is to eventually get others on board. Getting this support early on will ensure you have the backing you need later down the road. This support can also be beneficial in gaining buy-in from others when you are ready.
Example in practice: I worked with the University President's Office to get a statement of support for veterans directly from the president. We publicize this statement on our website and can reference it when persuading others to join us in our efforts.
3. Asking the Question
When it comes time to get others involved, even if it's just to pull some specific data for you, the biggest hurdle you have to face is asking for help - asking others if they would be willing to do something for you or for, in our case, veteran employees. We found that many people would be glad to help; it was only that no one had ever asked them to! So even if you are scared the answer may be no, I encourage you to ask. You may be surprised.
Example in practice: We asked our athletics department for veteran employee discounts to a few football and basketball games, including the military appreciation games. They were thrilled to offer them discounts, and our veteran employees were very appreciative.
That's it. Utilizing these three steps is how we, along with my supervisor's support, overcame some of the biggest hurdles of spearheading a new veteran hiring initiative at Clemson. All it takes is a small effort to make meaningful changes that will benefit the entire institution in, what we hope will be, years to come.
Taking these on, you should be in good standing to make significant progress towards your initiatives as well. Though it may take a few months or years, you can do so all by yourself, at least until you can build a team that will help you. Your impact is significant, and the time to act is now.
Article Topics