Classroom Tips for Ensuring Military Student Success

HigherEdMilitary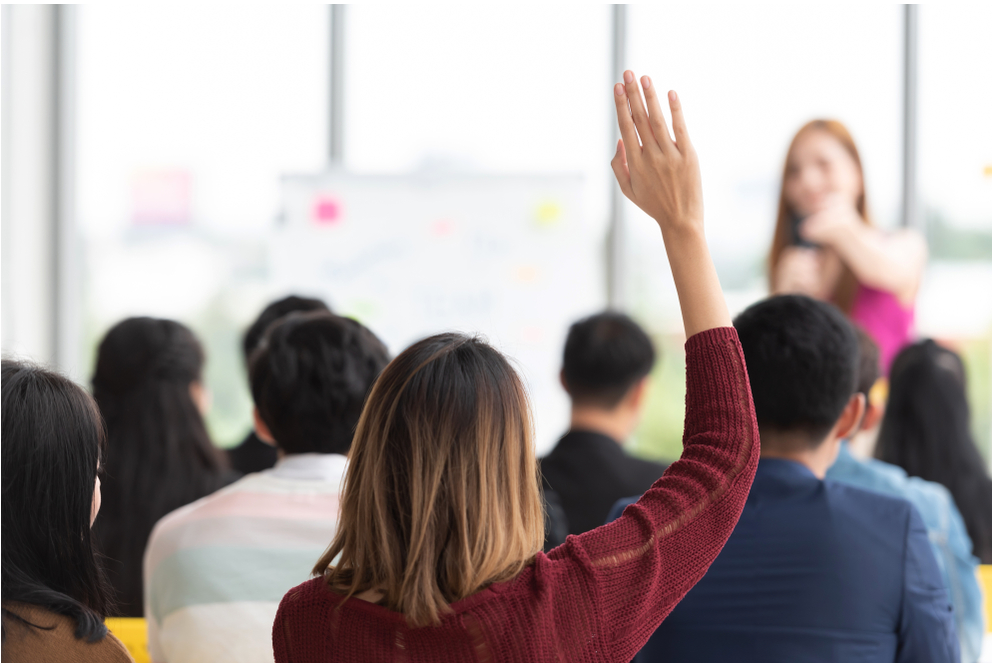 Shutterstock/eggeegg
April 12, 2021
Imagine that you have just been chosen to give a lecture on your area of expertise to a group of like-minded colleagues. Due to the pandemic, you have been asked to present your lecture via a Zoom platform. You work day and night to perfect your presentation - complete with a PowerPoint slide show - so that you can show how much you appreciate this honor.
The day of the event arrives, and you make sure the shelves behind your office chair are not too cluttered. You log on your computer and accept the invitation to lead the Zoom meeting. And when the clock strikes the appropriate time, you respond by launching enthusiastically into your presentation. The only problem: you receive blank stares when the camera pans to your colleagues, who appear not to understand a single word you are saying. Why? Because you have accidentally entered a meeting full of people who are not your contemporaries; instead, they are experts in a field you know nothing about. And, for whatever reason, you have also accessed a group of international educators who speak no more than 12 words of English.
This anecdote was presented to you to illustrate how military students in your brick-and-mortar or online classes may feel, when they enter your classroom, and try to adjust to a college environment. Although it appears there is no exact statistic to indicate how many instructors have military experience; suffice it to say the number is probably not in the two-digit range. Moreover, whether you may be aware of it or not, both you and your military students have invisible barriers that can prevent you from being able to provide an ideal educational environment for them, which is conducive to optimal learning.
Still not convinced? Then, consider that the military student represents a unique subset of learners who do not tend to share common demographics with more traditional learners. But, in order to do so, you must first consider the general characteristics of your military students:
active duty servicemembers and their dependents,
veterans,
members of the U.S. National Guard, and reservists,
federal officials who serve in leadership roles,
U.S. Department of Defense (DOD) contractors who assist deployed personnel or provide humanitarian aid to individuals in global regions affected by conflict or combat situations.
What makes a military student any different from traditional learners? Traditional students are mostly:
25 and under,
recent high school graduates,
single,
living at home and getting financial help.
See any differences between these two populations? The military learner is usually older, more disciplined, used to shouldering greater responsibilities, and respectful of individuals who are authority figures. And, regardless of their background and experiences, they are looking to you to make decisions that affect their future every day.
But what you probably don't know is that too many of your military learners may drop out of school before they complete their education. Why? One of the reasons is that they do not feel comfortable in a college environment, or feel like they fit in.
So, the question remains, how can you help to better serve this subpopulation of students? The answer to that question begins with opening up the lines of communication. If you have no direct experience with "military culture," or knowledge about what types of unique struggles these learners often go through in order to make an adjustment to an academic environment, show them that you are supportive of their needs. You don't want these students to feel vulnerable, because they can lose their motivation to learn, and resist going to class. So, try to be aware if you either consciously or unconsciously give off a negative vibe about people who enter the service.
However, also realize that communication works both ways. So, consider that the military student may come in with their own preconceived ideas about how you are going to conduct the class. They will probably anticipate your lack of military service, and their classmates' as well. They could also perceive you as being very liberal, not as committed to preserving our country's rights as they are, decidedly "anti-military," or "anti-gun," and as someone who will show favoritism toward your more traditional students.
However, you can make sure your military student knows you are aware of their potential to succeed in your class, and here are a few tips how.
Involve them in classroom discussions as early as the first day of class. When introductions are completed, ask them to introduce themselves, and explain to other members of the class what they hope to accomplish during the term or semester. Make sure they know where your contact information is on the syllabus and reinforce the fact that you are available to them if they have specific questions about any of the key instructional elements.
Moreover, don't engage the class in a conversation that includes anti-war sentiments. And refrain from asking if any of your military students have fought in one of the battles that the U.S. is, or was, involved in. Why? Because if you do, you can actually make the student feel even more isolated, withdrawn, and distrustful than when they first walked into your classroom.
Similarly, don't paint the military student as either the personification of war, or a national hero. For instance, never ask these learners the following question: "Have you ever killed anybody?"
Conversely, putting the military learner on a pedestal only gives them a greater feeling of separation from their peers. Like all of us, they most likely would prefer to remain under the radar and be noticed for their academic performance only.
Consider, too, that you want to avoid asking the military student to speak on behalf of the entire U.S. Armed Forces, or paint them as a "victim" of circumstances. Even if this student has sustained serious injuries, if you try to address these issues; either in private or in front of the class, you will probably lose the trust of your military students entirely.
As an instructor, you obviously have a responsibility to facilitate the learning needs of all of your students, not just those with whom you share a common background. By taking these small steps, you are sending the message that you are interested in helping these learners achieve their goals, and in establishing a comfortable learning environment for them.
For further tips and advice refer to Bricker's book: "An Instructor's Guide to Teaching Military Students: Simple Steps to Integrate the Military Learner into Your Classroom"
Suzane Bricker is an Associate Adjunct Online Professor in the Academic Writing and Communications departments at the University of Maryland Global Campus (UMGC). Her first book, which is an instructional guide to ensuring that military students and their traditional peers experience the same quality of learning in the classroom, was released in November of 2017. She is completing the final chapters of her second book, which is a career guide for veterans.
Article Topics