May 7, 2021
Campus Veteran Friendliness: Feasible, Folly, or What?

HigherEdMilitary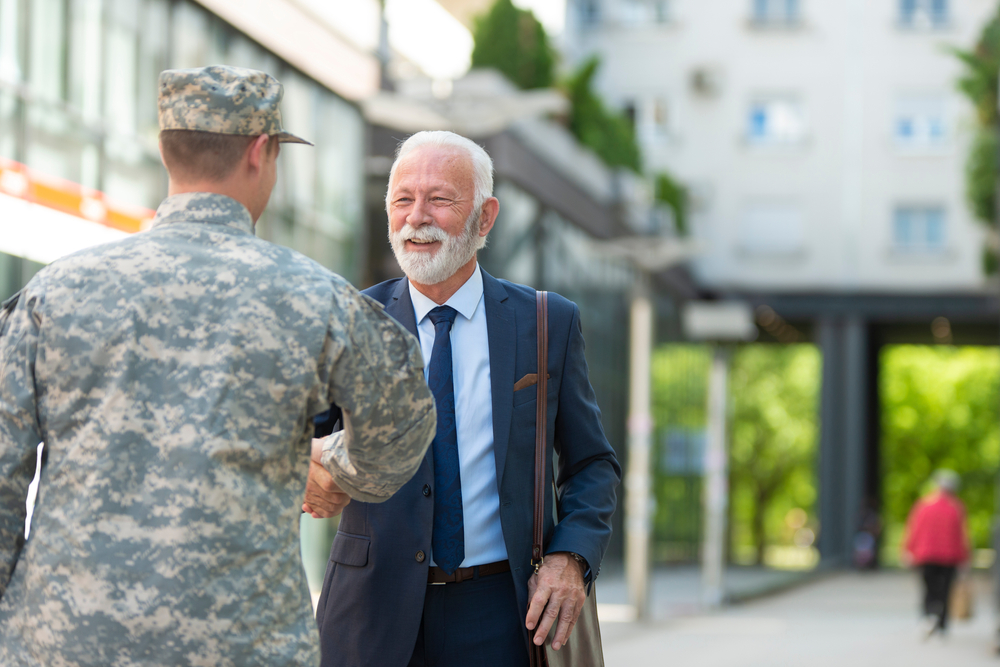 Shutterstock/DexonDee
I doubt many campuses intentionally set out to make environments unwelcoming for veterans, but an inordinate amount of energy is spent by well-intended campuses on supposedly veteran friendly initiatives that simply do not help, which may be "subtraction by addition" while campuses miss opportunities to help. A classic example is a near-universal paradigm that we must have veterans lounges and those lounges must be stocked with free coffee for veterans, for which there is no empirical evidence that this has any positive effect on veteran success. Let's hold this thought for a minute though and take a step back and consider how we got to where we are on veteran friendliness.
The first evidence of veteran friendliness in the literature goes back to 2009 in a special issue of New Directions for Student Services which documents the efforts of Minnesota to support the increasing volume of veterans coming to their campuses. This was the first in a long series of best practices to be veteran friendly. While a noble goal, there has yet to be a single empirical study that offers evidence justifying any of these "best practices." Then organizations such as ACE and NASPA began to flood the field with best practices, that then fueled the creation of a handful of competitor websites claiming to assess campuses veteran friendliness. The result has been a situation of the blind leading the blind for over ten years - most well-intended, but nearly all misinformed.
It is an ongoing joke with every one of the hundreds of student veterans that I've spoken with over the years that no veteran takes these veteran friendly lists seriously, yet they persist. The reason for this is easiest to articulate in one of the most specious criteria on those lists, which asserts that your campus is more veteran friendly if they have an ROTC detachment. Any veterans reading this are already rolling their eyes because almost all ROTC cadets have yet to enter military service and as such are neither military service members nor veterans - having an ROTC detachment has nothing to do with campus veteran friendliness. Moreover, campus XYZ can't simply choose to create an ROTC detachment to be ranked higher on these lists, which is even more frustrating for the small campus trying to improve its reputation.
A great irony about being ranked on these veteran friendly campus lists is that it is a self-report survey, which is the worst kind of assessment after no assessment. What this means is any campus can appear to be veteran friendly simply by shading the truth and checking boxes on these surveys that make them look more veteran friendly than they are. Then, unwitting veterans may make ill-informed decisions to join campuses based on lies - subtraction by addition. Some campuses that have done this have never recovered their reputation as not veteran friendly.
Okay, - so what is veteran friendliness? I expanded the definition initially offered by Lokken et al., (2009) starting in 2011 after dozens of conversations with veterans and directors of veterans services at numerous academic conferences over three years and developed the following, which is still the most comprehensive definition in the literature:
A veteran-friendly campus identifies and removes barriers to the educational goals of veterans, creates a smooth transition from military life to college life, provides information to veterans about available benefits and services, creates campus awareness of the student veteran population, and creates proactive support programs for student veterans based on their needs. (Vacchi & Berger, 2014, p. 124)
You can see from this definition that not only would it be difficult to operationalize this into some sort of survey intended to measure and rank campuses as veteran friendly, but that this is more of a vision statement rather than something that criteria can be easily laid against to measure. And still, I fabricated this just like what deserved criticism in the five years before its publication.
Realizing this, I conducted a grounded theory study to develop the theory of veteran-friendliness, which was at once eye-opening and logical in the end. The resulting theory is:
As veterans transition their identities, accommodating spaces and services, along with supportive personal relationships enhance campus veteran-friendliness and by extension student veteran success. (Vacchi, 2020, p.163)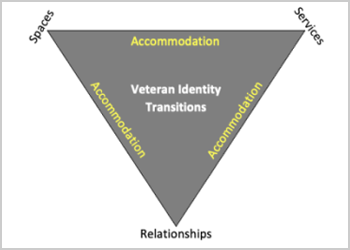 Because this is buried in conference proceedings slide decks and in Appendix A in my recent book, "Straight Talk for Veterans: A Guide to Success in College," this has had minimal discussion in the literature. Still, it has been well-received at academic conferences and is the first empirically-based effort to conceptualize veteran friendliness.
What are the implications of this for campus veteran friendliness goals and criteria? First, I suggest going to your veterans and asking them if the campus is veteran friendly rather than trusting a highly questionable web ranking system that is designed to be click-bait instead of actually helping veterans make informed decisions about campus choice. Assuming your campus has handicapped accessibility and doesn't have military hate speech posted everywhere, I'd suggest focusing on the other two categories, which may be nearly impossible to achieve for true veteran friendliness. In services, we need to be mindful that the objective of a service is to serve, not to be an obstacle, which has ramifications for all students. But in the case of student veterans, the number one complaint I've heard since the inception of the Post 9/11 GI Bill is, "why can't I get my GI Bill benefits processed in a timely and accurate manner?" Campuses that do this well must be about 70 percent of the way to earning a veteran friendly reputation from their veterans: the only true opinions that matter. For all other services, do what you say you will do and help veterans get back to the business of earning their degree as quickly as possible. Finally, relationships are not that easy to nail down and change constantly. Contrary to the veteran friendly criteria that your lounge and veterans staff are critically important to veteran friendliness, consider that 80 percent of your campus veterans don't traffic the veterans' lounge and barely consult veterans services except to get their education benefits processed.

The discussion of relationships involves others, specifically with student peers and faculty members with whom your veterans engage each day. Most campuses struggle to convince faculty members to develop cultural competency about veterans through professional development because it is difficult to require faculty to attend such training. Ironically, this is the easier objective to achieve with relationships because students typically outnumber faculty. As far as services, I suggest two reasonable initiatives: a veteran-only orientation and on-boarding week to get them away from traditional students and focused on their unique transition circumstances and academic support services. Veterans are, after all, in college to earn their degrees. With rusty writing and math skills and learning approaches in college that sometimes do not align well with the paradigm used in the military, encouraging the use of academic support services is paramount to veteran success.
Remember, most veterans have been through things that most non-veterans have not, so many of the obstacles that most students face are not a problem for veterans. Perhaps the biggest thing veterans need to learn is that it is OK to ask for help because, in the military, help-seeking is discouraged and those who seek help are shunned. Veterans who can unlearn this horrible habit can find themselves maximizing the abundant help services, including the disabilities services office, available on most campuses - and if veterans do that, it's hard not to have a veteran friendly campus.
Article Topics