June 1, 2021
What's Next After the Military? Working in Higher Education?

HigherEdMilitary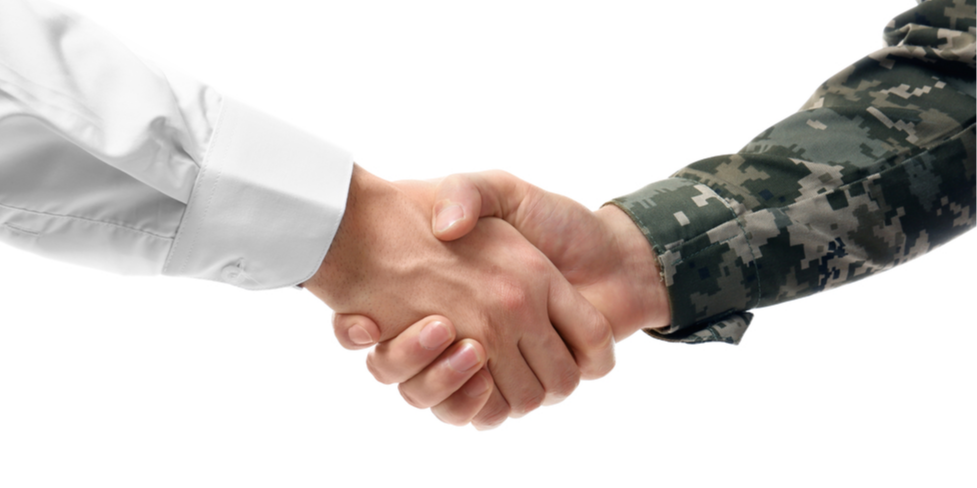 Africa Studio/Shutterstock
At last – your military service is coming to an end. Along with hundreds of your brothers and sisters in arms, you are heading back to civilian life, a mixture of rapture, excitement, and a tad bit of uncertainty. You have served long enough to begin true retirement, and yet another career could lie ahead.
Regardless of which category you define yourself, excited, uncertain, or beginning a search for your next occupation, at some point decisions must be made that will enable you to move forward to a new and exciting time in your life. When researching internally for your strengths (weaknesses), some will reflect initially on experiences prior to their time in the military. It is natural to look back to pre-military life for guidance on your future. But things have changed in the past twenty (or more) years. New opportunities are there to be explored.
So where do you begin? What are the opportunities? How will my background help in the process? All good questions, but guess what, one of the best places to explore for your future is the position you are leaving.
One area experiencing continued interest and growth is higher education. Colleges and universities, of all sizes, are consistently seeking individuals with a background in leadership, team building, innovation, and the unique ability to motivate others. HigherEdJobs posts hundreds of new jobs in higher education every day. The need is there, the candidates sought will possess a varied background of talent, and you could very well fit into one or more the positions.
When seeking positions in higher education there are several key characteristics sought by most, regardless of the institution's size. Think about it for a moment – in the military you were exposed to many, if not all, of the leadership characteristics employers in higher education desire in their candidates.
In easy terms, they seek individuals with strong "soft skills" – commonly known as "people skills." They are easy to describe, but difficult many times to actually attain. They are skills some will partially have instinctively, while others require additional training.
There are at least eight areas of soft skills training that most veterans have already experienced in the military. They were probably not described as social skills at the time, however, the bottom line is, most of the training was based on at least one or more the following areas.
Each of the soft skills are important to colleges and universities seeking qualified individuals in teaching, administration, management, human resources, student activities, and more. The descriptions below are a brief outline of just a few of the soft skills desired in applicants.
1. PEOPLE – The most important asset in any organization. The CEO, General, President, will not be successful alone. Know the culture of your employees.
2. COMMUNICATION – Companies grow, armies win, colleges thrive, with clear concise communication. One-way micro-managing communication will not survive.
3. RESPONSIBILITY – For equipment, for assignments, for meeting goals, for assisting others, for your actions.
4. ACCOUNTABILITY – Perhaps the most difficult to acquire. People have a tendency to run from accountability, but leaders accept it, grow with it, and bring others along.
5. TEAM BUILDING – Working as a coordinated team brings stronger, longer results. Individuals alone may sometimes do well – teamwork is effective and builds morale.
6. DISCIPLINE – Described in many ways. Personal discipline, group discipline, corporate discipline, community discipline, and discipline dedicated to a specific mission.
7. CRISIS MANAGEMENT – What happens when things go wrong – and they will. How to solve minor and major crisis situations with the least amount of damage, with personnel, property, or financial situations.
8. PERSONNEL MANAGEMENT – Simply put – having the right person in the right seat on the bus in your organization. (see PEOPLE)
As mentioned, all of the above have been experienced by former military personnel, whether they realized it or not. When looking at the topics individually, each area was touched on during your military career. To be completely understood, there are two avenues to pursue. First, actual experience, learning by trial and error. Your experience in any of the soft skills, regardless of the level of experience, should not be disregarded. Some employers will respond favorably to a retired veteran with limited experience and will provide the opportunity to "learn on the job." Secondly, by researching and seeking further education in each of the soft skills, your employment value will increase with each.
With your prior military introduction to "soft skills," you already have a head start on many others. You have probably experienced the difference between good management and bad management; good people skills versus bad; and good crisis management versus poor. Learning more about each area will place you in an advantageous position. Bringing your experience to a college or university campus will identify you as an individual with exceptional leadership capabilities.
Here are a few examples of positions in higher education currently occupied by retired military personnel:
College or University President
Vice-President, Academic Affairs
Vice-President, Student Affairs
Vice-President, Human Resources
Vice-President, Finance
Special Assistant to the President
Director, Facilities Planning
Director, Long-Range Planning
Athletic Director
Various faculty positions:

Department Dean
Educator in Residence
Dean of Students
Returning to civilian life as a retired veteran has many advantages. Look at your opportunities with confidence. There are over 3,000 colleges and universities in the United States. It's a vast pool of institutions to investigate for future employment.
With your military experience as a background, your future employment in higher education is only a short step away.
Article Topics