6 Ways Colleges Can Better Support Female Student Veterans

HigherEdMilitary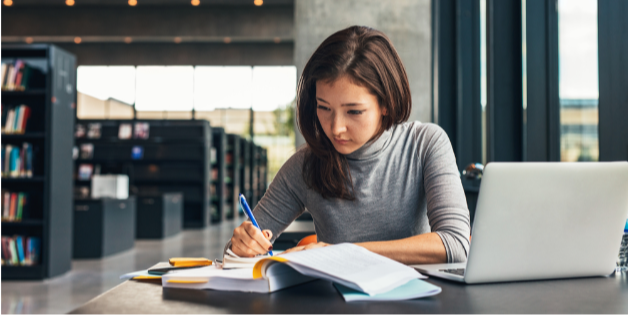 Shutterstock/Jacob Lund
June 15, 2021
Women make up a significant portion of the military-connected students we serve, whether we see them in our veterans' lounges or not (and often, the answer is not). As higher education professionals who serve both men and women veterans, we need to do a better job supporting our female veteran students, since their experiences often require a different approach than for males.
As a female veteran myself, I remember the exact moment I first realized that my gender was going to play a huge role in my military experience. It was 1995 and I was sitting in a recruiter's office.
The recruiter asked what kind of job I thought I wanted to do in the Army, so I said I was interested in something related to journalism or computers.
He made the saddest face I've ever seen, shaking his head. "I'm afraid that all of those positions are taken," he regretfully informed me.
"Taken?" I was shocked. I had no idea military journalism was in such high demand.
He nodded. He then asked if I had ever considered being a cook, or maybe a mechanic.
I politely declined. If I could do it in the civilian world, I didn't want to do it in the Army. He thought for a second, then seemed to have a flash of inspiration.
"How about a traditional female job?"
"Traditional female job?" I asked, confused. If I had been older or wiser, I might have known enough to be offended, but at that moment I simply had no idea what he was talking about.
He repeated himself, but this time louder. "Yes. You know, a traditional female job."
This did not clarify things for me at all, and he offered no further explanation. He just sat staring at me, waiting for me to respond. I racked my brain for something, anything, to say. Finally, I ventured the only thing I could think of: "You mean -- like, uh...a mom?"
He waved his hands as if to brush the whole conversation away, then sent me back out to finish more paperwork. (I eventually enlisted under the MOS 98K, "non-morse communications specialist" -- which of course had nothing to do with mothering -- or being female.)
Since 1995, a historic shift has occurred: Women are the fastest-growing demographic in the military.
Women are joining the military in larger and larger numbers, and the evidence of their impact on the mission is everywhere. Some changes are obvious -- such as the recent graduation of two female soldiers from Army Ranger School. But we're also seeing a shift in how body armor and flight suits are now being designed specifically for women, not to mention how grooming standards for military women have changed.
So, when these women show up on our college campuses, we have to find ways to better serve their unique needs.
Women Veterans and Service Members by the Numbers.
However, women veterans still face significant challenges, including:
trouble accessing health care, especially through the VA
experiencing higher rates of divorce, depression, anxiety and trauma
taking on more childcare responsibilities than their male counterparts (and often struggle with reconciling their roles as spouses and moms with the warrior mindset)
they often don't receive appropriate recognition for their service.
Female Student Veterans are Harder to Engage.
There's no doubt that this population is often harder to reach than our male students. There are several reasons for this:
Women, in general, tend to be hesitant to practice self-care, seeing it as selfish or "not for me."
Military-connected women have often had difficult, or traumatic, experiences as a result of their military service and are often reluctant to join a group that reminds them of those experiences.
Women have more childcare and family responsibilities, in addition to school and work, and so simply don't (or won't) take the time to connect with other female veterans.
6 Ways Colleges Can Help.
There are a few things universities can do to help support their female student veterans.
1. Protect confidentiality at all times. Women are especially sensitive to having their privacy violated, and even more so if they've experienced military sexual trauma (MST) -- and 25 percent of female veterans and service members have, according to the DoD. It is critical that we protect women veterans' and service members' privacy and work to earn their trust. Make sure that the staff and faculty you work with understand just how important it is to state upfront that confidentiality is a top priority with veterans.
2. Partner with your Women's Resource Center (WRC), Office of Multicultural Affairs (OMA), and/or counseling center to start a women veterans support group. College campuses across the country are making inclusivity a huge focus, and military student offices are no different. Create a VA work study position as a liaison between your office and the WRC and/or OMA on campus. Consider having a student lead the efforts to create a support group just for the female students you serve and have them partner with your campus counseling center for extra support.
Make sure you're also doing the work to support female student veterans of color - they are, on average, one of the highest risk groups of students to dropping out, and the least likely to seek out help.
3. Partner with your campus career center to offer female-specific career services.Military-connected students in general struggle with networking and career mentoring, so you'll have to work extra hard to engage your female students, who are often busier and more avoidant than the general population. Specific opportunities may include mentoring and storytelling workshops.
Mentoring. Find strong women in the students' industry, or even on campus, who are willing to mentor these young women and help them see the strengths and skills they bring to the table, as well as developing their resilience.
"Storytelling" Workshops. Because women often have a hard time reconciling their military experiences with the cultural expectations of women as caretakers and nurturers, you'll need to work with your female veterans to help them tell their story to employers and grad schools in a way that's compelling and fits their personalities. This is difficult but critically important work.
4. Partner with your financial aid office to provide financial support. I've run into female students who run out of their GI Bill because they're only going to school part-time while they take care of their families. There are scholarships available for female veterans and service members, but even more for women in general, that aren't available to your male students. Work closely with your financial aid office to help female veterans who need help paying for school and their living expenses.
We know that nationally almost half of student veterans are parents (and many female veterans are single parents) - consider offering childcare grants for those students who have college paid for through the GI Bill (you could also partner with your university's on-campus child development center to help subsidize these students' childcare costs).
5. Recognize women veterans for their service. Too often the general public, and your colleagues on campus, have their own stereotypes and biases when it comes to veterans -- what they look like, who they are. So, it's vitally important that you do the work to recognize the women who have served at every opportunity you get, and to feature women in your marketing materials and veterans website. Set aside a specific date (many states and organizations have chosen June 12) to acknowledge and honor the work of women in the military and recognize the unique challenges that they have faced.
6. Educate your female students about off-campus services and opportunities. Congress, earlier this year as one of its final acts before the new class took over, passed the Johnny Isakson and David P. Roe MD Veterans Health Care and Benefits Improvement Act of 2020. A critical part of that legislation funds significant changes to women's healthcare at the VHA. Contact your local VA clinic or hospital to find out what female-specific services are offered locally or learn more from the U.S. Department of Veterans Affairs (VA).
The VA isn't the only outside resource that's working to support female veterans and service members. Many state and local government agencies are funding female-specific services and support, including retreats, workshops, and family fun days.
Things have changed dramatically since I first sat in that recruiter's office in 1995, but female service members and veterans still have tremendous hurdles to overcome when it comes to higher education. As a society, we lure women into military service with the promise of paying for their education. It's up to us as higher education professionals who serve this unique population to ensure these women have the best possible chance of collecting on that debt with supportive on-campus services.
Further Reading:
Recognizing Women Student Veterans and Service Members on Campus

The Many Faces of Military Families: Unique Features of the Lives of Female Service Members
A Tale of Two Transitions: Female Military Veterans During Their First Year at Community College
Female Student Veteran's Transition to College
Article Topics