How Faculty Can Help Student Veterans Who've Experienced Trauma

HigherEdMilitary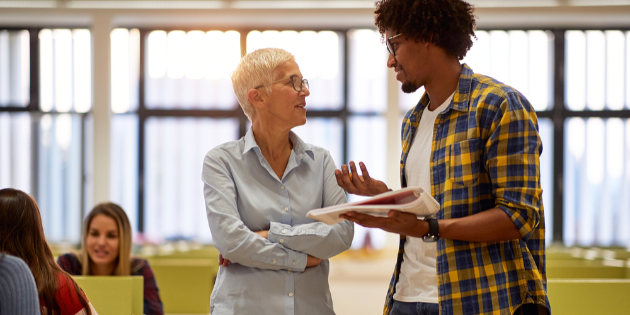 Shutterstock/Lucky Business
June 25, 2021
We all want to be treated as more than the bad things that happened to us, and student veterans are no different. Like all college students, this unique population can experience trauma from a variety of other sources: a car accident (the most common cause of PTSD in the U.S.), serious illness, or childhood trauma.
For student veterans, add to the list military sexual trauma (MST), traumatic brain injuries, and of course, combat experiences (though this is becoming less common).
Students are Not Their Trauma
If you watch the media coverage of PTSD and the military (and the number of nonprofits that raise money for PTSD), you could be forgiven for thinking that PTSD is a widespread, prevalent problem. But according to research, today's student veterans are only slightly more likely to have suffered from trauma than the general population.
Still, June is PTSD Awareness Month, and we know that trauma is an issue that affects veterans in different ways. So, it's crucial to understand how we can best help them in the classroom.
Factors Impacting Willingness to Seek Services
It's worth remembering that student veterans who sustained non-combat injuries may be reluctant to discuss due to shame. The same culture that makes student veterans disciplined, strong, and resilient can also make them reluctant to seek services.
Also, student veterans tend to rank each other and themselves on how "legitimate" they believe their deployments and service were. Someone stationed stateside is 'below' a veteran who had an overseas tour, those who served on an overseas tour are 'below' service members who served in a war zone. The highest level of this hierarchy is someone who saw active combat.
Higher education professionals who serve veterans should work hard to overcome these stigmas. Remind students that everyone who served had a role to play, and for most of them, their assignments and deployments were entirely out of their control.
If students are having issues concentrating and reaching their goals because of a traumatic event, encourage them to seek help.
What are the Potential Classroom Triggers for Student Veterans?
As educators, we must never assume we know what students' trauma looks like. Triggering situations could include:
Full classrooms
Loud, sudden laughter, shrieks, or other noises
Exhaustion and lack of sleep (nightmares are a common symptom of PTSD)
Interruptions to routine
Certain assignments (it can be hard to know which tasks are triggering)
Excessive alcohol common on college campuses
Isolations, feeling 'different.'
Since we don't know what students have been through, the best approach is to communicate clearly that we're open to being flexible and meet student veterans where they're at.
Tips for Accommodating Student Veterans Who Suffer From Trauma
Again, don't assume you know who has had trauma and who hasn't. Allow students to advocate for their needs and leave the room, sit in a particular place, or sit out or find an alternative activity if need be.
Never force students to participate in team-building activities that include physical contact.
For group activities, provide alternatives that won't single out any particular student -- allow everyone to opt-in or out.
Stick to the syllabus and class schedule (to the extent possible) and give ample notice of all class content.
Upload slides (tip: to encourage class attendance, remove key information from your slides that students can only fill in by attending your lecture), handouts, and videos to a shared folder for advanced access.
Inform the class of guest speakers and their topic beforehand.
Office Hours: Engaging With Student Veterans Outside of Class
Listening (if they choose to share) is often the best thing educators can do with these students. But go a step further -- ask what would make them feel safe, secure, and successful -- and then accommodate them to the extent possible.
One of the best ways to counteract trauma is with social support and staying busy. Encourage student veterans to get involved on campus (frame it as career readiness).
Empower students by allowing them as much agency as possible. Allow them to choose where they sit, build in assignment alternatives, provide reasonable deadline extensions, etc.
Remember, many veterans may play various roles outside of the classroom (parent, employee, caretaker, etc.).
Finally, stay connected with the resources on campus that can offer support that's outside your expertise.
Part of being a veteran-inclusive campus is educating yourself and others in the campus community about how to best serve student veterans who have experienced trauma. With awareness, compassion, and just a few accommodations, we can go a long way towards getting these students to graduation.
Article Topics