July 1, 2021
Building Military Appreciation into an Inclusive Campus

HigherEdMilitary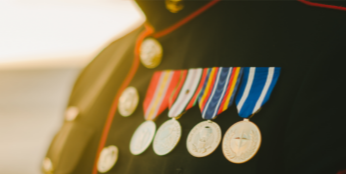 Kelsie Taylor/Shutterstock
In this month's Higher Ed Careers interview, Andrew Hibel spoke with Dr. Abby Kinch, the vice president of programs and services at Student Veterans of America. She shares her expertise on serving student veterans, honoring Military Appreciation Month on campus, and how larger diversity, equity, and inclusion initiatives ultimately benefit student veterans.
Andrew Hibel, HigherEdJobs: May is Military Appreciation Month and also one of the busiest months for college campuses. Between finals, grading, students moving in and out of dorms, and commencement to name a few, how can campuses still draw attention to Military Appreciation Month in this busy time?
Abby Kinch, Student Veterans of America: Many campuses use graduation as a way to acknowledge the service of their students who have served, are serving, and are commissioning to serve in the U.S. military by providing things like honor cords or stoles to be worn during commencement ceremonies. They draw attention to these students during the ceremony by asking them to stand, and the acknowledgment from the families and friends of all of the graduates is often humbling. More and more campuses are joining in this tradition as well. Additionally, we've seen campuses acknowledge military appreciation month with speaker series, luncheons, and other smaller activities, as well as use the slower time of student activities to acknowledge faculty and staff who have served or who may be serving in the Guard or Reserves. There are so many ways to show appreciation, and campuses get really creative by leveraging their own cultures and traditions in acts and displays.
Hibel: What are some ways faculty, staff, and students can sincerely express gratitude to service members and veterans? Beyond a 'Thank You' and a social media shoutout or highlight this month, what does sincere support and gratitude entail from your perspective?
Kinch: Support should be meaningful and engaging and should have a purpose. Support for student veterans means identifying specific needs and gaps and working to fill those so that the student veteran experience is in line with the college experience. Through our research, we know there are five areas where student veterans, as well as all students who come into higher education outside of the traditional high school-to-college path, are struggling. These are childcare, financing their education, employment, advising prior to starting college, and connection to a peer network.
Over half of student veterans have children and 20 percent of those are single parents. The childcare gap for student veterans comes after hours, when papers need to be written, when studying needs to happen, and when group projects require attendance outside of the regular 9-5 daytime hours when childcare is normally available.
While many student veterans are using the G.I. Bill to fund their tuition and living stipend, many do not. Even those who do experience shortfalls in G.I. Bill coverage for schools with higher than permitted tuition or for paths that extend beyond the 36-month coverage of the G.I. Bill. Additionally, as I said, more than half of student veterans have children, and so the housing allowance provided that was set for a single man falls short when more living space, groceries, and childcare are required.
This leads to the next need, where we find about three-quarters of student veterans working full- or part-time while in school to supplement those funding needs. These jobs are largely in the food service and retail industries. What would benefit student veterans more is employment counseling that connects student veterans with entry-level, local positions within their intended industry. This propels student veterans forward in their careers even before they've graduated by establishing a professional network, gaining a dictionary of industry jargon, and acquiring skills specific to a job they'll be able to leverage closer to graduation.
Traditional first-time-in-college (FTIC) students have the benefit of their high school guidance counselor leading them to the best decision for college and major, and their first year in school is often intended to be exploratory, with a liberal arts education serving as a component of that exploration. The G.I. Bill, while a generous benefit, allows no room for that exploration. A student veteran using the G.I. Bill must declare their major their first semester and are then advised according to that major. Most veterans do not go into fields that mirror their job while in service, and so beginning in a major without the opportunity for exploration leads to student veterans having a higher rate of major change, and thus the expiration of their benefits prior to graduation. Improved advising, or connection to that guidance counselor, prior to selecting and enrolling in college would greatly benefit student veterans.
Hibel: Some university faculty and staff hope that student veteran and service member needs become a greater part of campus diversity, equity, and inclusion initiatives. What are your thoughts on this and how do you think campuses should address the needs of student veterans and service members?
Kinch: As is true of all students, a peer network is imperative in the college experience. It improves mental health and student performance and outcomes by an impressive amount. Despite this, because of perceived cultural differences between student veterans and traditional students, student veterans often isolate themselves from the rest of campus, rarely engaging in campus communities. Certainly, Student Veterans of America chapters are meant to create that peer network and support, but a campus culture that is inclusive of veterans, that supports them in the ways mentioned above, and that encourages and welcomes active participation in all aspects of campus is incredibly powerful in mitigating that isolation.
These areas of support are critical for student veterans, and acknowledging their needs is a meaningful way of showing gratitude. This isn't only at the administrative level, either. Many of these areas include opportunities for student support, specifically in the inclusion of veterans within campus systems and structures.
Hibel: As the Vice President of Programs and Services at Student Veterans of America (SVA) what is your approach (or approaches) to empowering veterans in higher education? What do you see as the greatest need in empowering student veterans?
Kinch: Implicitly and sometimes even explicitly, the message from the military is one that precludes feelings of excellence; that is, oftentimes separating service members experience symptoms of imposter phenomenon at a higher rate than nonveterans because they've been conditioned to see themselves in the rank and file. While absolutely necessary for military operations, the effects, when this mentality is placed in a college classroom, can be detrimental where competitive excellence is the culture. My goal is to force transitioning service members to reimagine what is possible for themselves through the transformative power of higher education. They can, and should, apply for top schools and top programs. They should jump at the chance to earn their spot in graduate school and post-graduate fellowships and know that they've earned their spots in higher education and as leaders on college campuses. Part of this comes from how we engage with transitioning service members and part of it comes from creating inclusive environments on campus, so SVA is working to improve both.
Hibel: Your dissertation "examined the policies, programs, and services of higher education institutions targeting student veterans." From your perspective, what is the state of higher education policies, programs, and services targeting student veterans? How have things changed, or not changed, since you worked on your dissertation?
Kinch: My research has found that many of the advertised policies and programs that make a school "veteran-friendly" have no impact on the success of student veterans. When examining the strategies surrounding the desire to implement these policies and programs, there largely isn't one. Additionally, many of these are created with the misconception that veterans are operating at an academic deficit when compared to their nonveteran peers, and so need lowered barriers to entry to campus. Since I wrote about that, though, I've seen a shift. Our conversations are more about veterans being a benefit to campuses because they're naturally successful in performance and outcomes. This is allowing campuses to rethink how they approach student veterans and offer support for this group. Support like orientation and a single point of contact are important in establishing a peer network and navigating higher education; waiving a $30 application fee makes no impact, and we're seeing that shift. We're also seeing more universities include veterans as a part of their diversity, equity, and inclusion initiatives, which includes a more strategic examination of these policies, programs, and services.
Hibel: Speaking as a previous student veteran and service member yourself, how have things changed, or not changed, since you were a student? How does, or doesn't, the military climate of the time, or era, influence how student veterans and service members are supported on campus?
Kinch: Florida State University has a history museum near the center of campus that shows a time when the school was considered the "Berkeley of the South." Certainly, support for veterans has ebbed and flowed on campuses like FSU's in the past century, but, while the support for other student groups, namely underrepresented groups, has grown, we haven't seen a decline in support for student veterans. I think the reason for this is two-fold. First, student veterans are a diverse population of students and their representation intersects with all other groups on campus. Thus, support for groups like first-generation college students also supports student veterans because almost two-thirds of student veterans are first-generation college students. Second, the benefit of having an inclusive campus culture is that support isn't a zero-sum commodity. We can support Black students on campus like we did following the murder of George Floyd and not pull back on the support we've given student veterans. We can provide additional support for women on campuses, where sexual harassment and assault are statistically higher, and still support student veterans. When campuses include these groups in DEI discussions, as well as institution discussions at large, the support is shared across the student body. I think this type of culture will perpetuate the successes of student veterans as well as all student groups.
Hibel: What is the most rewarding part of your work in higher education and what keeps you engaged in the work that you do?
Kinch: My favorite part of my job is talking to chapter leaders. I actually got to have a phone call earlier this week with a chapter from Washington, where they were looking for advice on getting student veterans excited to be engaged with the chapter in the fall, when in-person classes will resume. Our chapters are what SVA is about, and as a former chapter leader, I get to share my experiences and mentor these students. I also get to see their successes semester after semester or quarter after quarter. I used to teach full-time and missed being around students. Talking to our chapter leaders and visiting our chapters is my coffee. It's what gets me up and keeps me going throughout the day.
Article Topics