July 8, 2021
Helping Student Veterans Explore Academic Majors: Beyond the Business Degree

HigherEdMilitary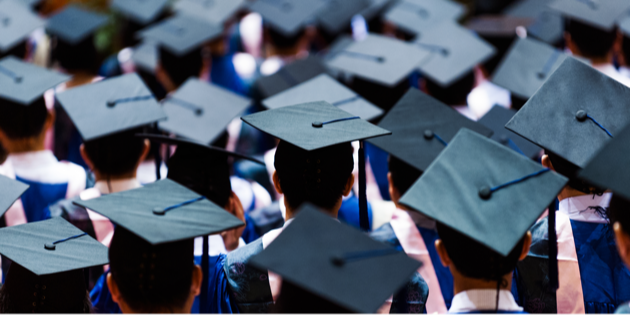 hxdbzxy/Shutterstock
Imagine you're a veteran and you want to break into the business world for your post-military career. You've been told you possess highly desirable skills – like initiative, perseverance, and a leadership mindset – but that these attributes don't translate into a corporate environment. You are, in short, too "military."
This scenario happens frequently for military members and veterans. Faced with the reality that their skills are not a guaranteed entry into business careers, and that they likely need to play catch up with their civilian peers, they turn to higher education to close the gap between their military experience and professional goals. For many, the perception is that a business degree, particularly a master's in business administration (MBA), is the quickest way to achieve their goals.
But is it?
Business and management degrees are extremely popular among veterans. The Post 9/11 GI Bill has helped student veterans earn nearly 100,000 degrees in business, management, and marketing, nearly three times the next degree choice. The prevalence of these degrees has meant that word-of-mouth alone makes them a natural contender when selecting a course of study.
But most veterans are older than the traditional student in higher education, and are looking specifically to increase their career opportunities and learn to apply military skills in civilian life. This means their degree choices could be better aligned around established skill sets and targeted career paths. Getting a business degree just because it's a prevalent choice among their peers, or because it's what a commander or sergeant has recommended, could mean it takes them longer to reach their professional goals.
If you're in higher education working to support military members and student veterans, it's important to understand what their personal strengths and career goals are, and not just what military influences they may have had. Because, as much as veterans are known for attributes like organization, discipline, and problem-solving, many also excel in and are driven by the interpersonal aspects of service such as teamwork, leadership, and developing their people.
Below are four academic majors to consider for veterans wanting to capitalize on their experiences in leadership, and people management, and excel in civilian careers around the business of people.
1. Organizational Development.
For the first time in history, the workforce covers five distinct generations. If a business wants to thrive, it needs people that understand how to manage and motivate a diverse population all within the structure of an organization. Broadly speaking, organizational development teaches students how to analyze, diagnose, intervene, and build effective, and ultimately successful, organizations.
Why it works for veterans: In the military, service members gain experience working as a unit regardless of group dynamics. When a student veteran pairs that real-world knowledge with the theories and practical skills of organizational development, they can provide valuable insights that impact a business' success.
2. Organizational Consulting.
Consulting is big business. Ranging from global companies to boutique firms to independent entrepreneurs, it's estimated that U.S. enterprises spend roughly $50 billion a year on consulting and consulting-related services. While each consultancy brings its own approach, understanding the ethics, functional disciplines, and end-to-end consulting process is fundamental for all. The consulting job market is also more in line with a workforce that sees themselves less loyal to a particular company and more attached to the work specialties.
Why it works for veterans: Service members are solution-makers, which is at the heart of consulting. Consulting may be a viable path for veterans with more time-in-service, who have made a career building a specialty, and now are interested in selling that knowledge, as opposed to integrating into a new work environment.
3. Leadership or Management.
Leaders may not be born, but they can be educated. Understanding historical and modern approaches to leadership or management, including the neuroscience behind it, allows students to not only be more effective as leaders themselves, but also develop those skills in others. It can also prepare them to adapt and flourish in a civilian workforce with unknown challenges.
Why it works for veterans: Officers and senior enlisted members can bring the experience of leading teams from four to fifty; they may have even received leadership training. Yet this could be the largest gap when it comes to military experience and corporate understanding. Pursuing advanced studies in modern leadership provides both the theory and application needed to evolve from leading a voluntary force to being a leader in a corporate setting.
4. Executive & Professional Coaching.
Professional coaching is a career field that has grown exponentially over the last few decades. Through certified training programs and continuing education, it has become a recognized asset in both the personal and professional world. It has also become a viable career option, with coaches making a reported average annual income of $62,500 in North America.
Why it works for veterans: Professional coaching may not be an obvious choice for some veterans, but it may be a natural fit. At its core, coaching can help people find new perspectives in their careers and increase business effectiveness. As a course of study, it can be a good fit for veterans looking for a new mission that involves making a purposeful and personal impact in the business world.
Military members and veterans have experiences valuable in the business world, but may need help to understand what academic options best translate those into marketable skills. If working with student veterans is not something you're familiar with, take time to learn what aspects of their military experience a student may want to promote in their post-service career. Though a business degree may be right for some military members and veterans, others will appreciate learning about additional academic options that highlight their interpersonal talents and lead them towards their career goals.
Article Topics