August 23, 2021
Orientation: Welcoming Student Veterans

HigherEdMilitary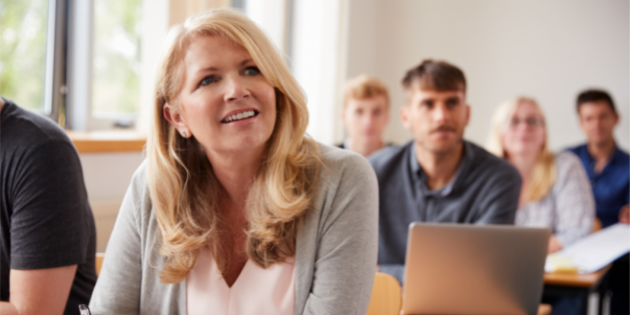 Monkey Business Images/Shutterstock
With the return of fall, those of us in higher education are once again welcoming new students to campus! A formal orientation is one way we enrich this process. Importantly, an effective student orientation can lay the foundation for future student success and retention. This is particularly applicable in the case of student veterans.
With that noted, higher education professionals need to realize that orientation programming cannot be developed haphazardly. The specific topics need to be intentionally selected based on the needs of the students. In this article we highlight some of the key topic areas we believe should be incorporated into a veteran orientation.
People are Key
Community is vital for student veterans. In the military they become accustomed to working as a team. Consequently, in college they need to know that they do not have to go it alone. There are other people that will be there to assist them and provide guidance along the way. There are two distinct groups that they should meet during orientation. The first is other student veterans. The peer-to-peer relationship is vital and creates a different dynamic than the employee-student relationship. Students often feel very comfortable together and may be more willing to connect with a peer--rather than an authority figure-- if they are struggling. Additionally, students can interact with each other in not only formal academic settings, but also casual social settings.
It is also important for veterans to meet the staff at your institution who will be working with them most often. Making this first connection is important and will lead to a higher number of students actually contacting those staff. Rather than simply being names in an email, they will know that these are friendly, helpful individuals that can provide valuable assistance.
Using Benefits
Another key component of the veteran academic experience is the use of education benefits. As we know, determining eligibility and using education benefits is often a convoluted process for veterans. This can lead to a heightened sense of anxiety that there will be disruptions or unwanted complications in using education benefits. With all they have done to earn their benefits, we need to do what we can to lessen their worry and allow them to focus on their academics rather than their benefits. During orientation we recommend covering several facets of using benefits including:
The procedure each semester
The responsibility of the school in the certification process
The responsibility of the student in the certification process
The appropriate staff member(s) students can contact if they have any changes to their course plans or have questions about their benefits or bill
Activation Procedure
The term "veteran" is being replaced by the term "military" in many settings. The reason is that "veteran" is often associated with someone that has served and is no longer in the military. The reality is that an increasing number of military students are still actively serving in the National Guard or Reserves. Consequently, there is the possibility that their studies will be interrupted by military obligations such as training or activation.
This possibility leads to increased stress for students. If they know a military activation is likely impending, it will likely distract them from their schooling. To truly be military-friendly, institutions need to implement policies that protect students in instances of military scheduling conflicts. At orientation, students in the Reserves and National Guard need to be made aware of these policies and reassured that they will not be penalized in the event they have a military obligation.
Similarly, students also need to be informed what action is expected of them. For example, it must be stressed that they need to keep an open line of communication with faculty and proactively update them about military matters when needed. They also need to be made aware of which additional college staff must be contacted and what procedure(s) to follow.
Resources Available
Lastly, like any incoming student, veterans need to know what on-campus resources are available. As paying students, they are given access to a comprehensive group of experts that can help remove barriers and ultimately aid in getting them to graduation!
This is not an exhaustive list, but some of the important resource providers we have found veterans utilize are below:
Writing Center- Academic writing is vastly different from the writing styles used in the military. Veterans can benefit from some guidance as they become accustomed to the new writing style.
Librarians- Similarly, academic sources are key for paper and project completion. School librarians can help with locating approved sources.
Equal Access Office- These offices assist students with a medical condition or disability get equal access to the college experience. For example, they may work with a student to get test taking accommodations.
Counseling Services- College can be a stressful time for students. Onsite counseling is an effective first step to help students address any mental health challenges they are encountering.
Conclusion
They say a good first impression is important. That is certainly the case with welcoming veterans to your institution. An effective orientation will be a good first step in assuring them that their college career will be a success!
Article Topics