Suicide Awareness: How to Help

HigherEdJobs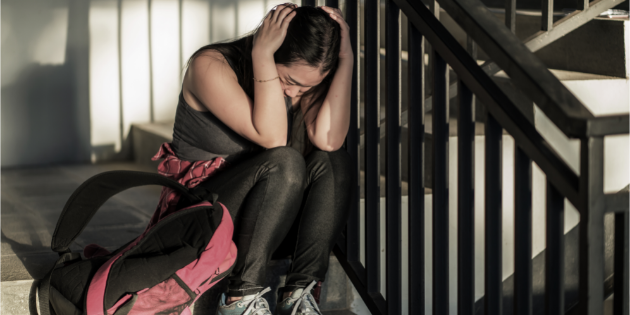 Depressed college student
September 30, 2021
When we think back on our experience as college students, we probably recall an emotional mix: the stress of academic work coupled with the thrill of an independent social life. This year, our students have a more complex challenge as many have returned to campus after months of remote learning. While some had favorable conditions, others struggled. Even in the best circumstances, powering through a pandemic takes a toll.
A recent CDC report finds that nearly three-quarters of 18- to 24-year-olds experienced one or more "adverse mental or behavioral health symptoms" because of the pandemic. The report explains: "Symptoms of anxiety disorder or depressive disorder, COVID-19-related TSRD [trauma- and stressor-related disorder], initiation of or increase in substance use to cope with COVID-19-associated stress, and serious suicidal ideation in the previous 30 days were most commonly reported by persons aged 18-24 years."
September is Suicide Prevention Awareness Month, our opportunity to learn more about the emotional factors that can cause people to contemplate and commit suicide. This awareness month is also an occasion to contemplate our wellness practices and to consider how we might create safer spaces for students.
The Importance of Mental Health Treatment
The CDC points out that suicide is the tenth leading cause of death across age groups and the second among those aged 10-34. Tragically, the American Foundation for Suicide Prevention (AFSP) points out that "90% of those who died by suicide had a diagnosable mental health condition at the time of their death." AFSP points out that when people manage their mental health through treatment, much can be done to change this outcome. It is not inevitable. Treatment helps. Sadly, though, over the course of the last year, AFSP notes, that of American adults with treatable mental health issues, nearly 45 percent did not seek treatment.
The Implications of Suicidal Thoughts
It feels urgent and scary to imagine our students envisioning killing themselves, but not all suicidal thoughts are the same. "I actually want to normalize suicidal thoughts." Dr. Emily Stone, owner and senior clinician at Unstuck Therapy Group explains. "[I]t is really our fear of these thoughts that bring so much shame and secrecy. The truth is that almost everyone has fleeting suicidal thoughts at times. It can be an ironic source of coping. In a moment of feeling overwhelmed, it can feel like a quick release to think: 'It would be so nice just to not be here anymore'. There are many kinds of suicidal thoughts. It isn't just 'I want to kill myself'. Suicidal thoughts also include: 'I wish I could just go to sleep and not wake up.'"
Suicidal thoughts can be important indicators. Dr. Stone points out: "Suicidal thoughts should be taken sincerely and seriously, but also normalized as part of being human. It is hard to find this balance! If a young person can recognize that having those thoughts can happen at times, they will be more likely to turn towards those thoughts with curiosity and care and talk to someone about the thoughts. Suicidal thoughts give us information. They are part of our alert system: 'Something is off. My world has become overwhelming. I need to pause and look around at things I might need to change. I need to ask myself if I am isolating or falling into habits that do not support my well-being.'"
When we, or our students, have these thoughts, it means we're experiencing strong emotions that we need help processing. Dr. Stone explains: "Suicidal thoughts are a sign of feeling not only overwhelmed, they are a sign of a powerful combination: hopelessness AND helplessness. . . Suicidal thoughts often arise in times of stressful transitions, particularly those that feel out of our control and those in which we feel alone."
The COVID-19 Factor
We've all felt the discomfort and disconnection during these months of pandemic solitude. But the pain that these have brought can be more acute for our students, who are at a different developmental place than grown adults.
"Teenagers and college students are in times of intense socialization. Socializing is one of their main jobs! It is a huge developmental task for them." Dr. Stone explains. "They also face transition after transition. Moving to college they are faced with learning more about themselves as a growing adult. They are making big decisions about their future. They are meeting professors and engaging in new communities. These times are incredibly important moments for teenagers and college students to feel a sense of belonging. COVID has made forming relationships more challenging. Socializing is more awkward and is injected with fear or suspicion. Class on Zoom is NOT the same as in person. We really do get energy from being in the presence of others."
Plus, it's not just the pandemic that we're grappling with. Young adults are learning where they fit into society. They are registering to vote. They are joining a political conversation that is polarized, emotional, and urgent. This, too, has implications for their sense of security in the world.
Dr. Stone calls this a "traumatic realization that older generations may not be trustworthy." She explains that young people "are watching the elections and the behavior of elders they have trusted and loved. I have heard countless stories of feelings of deep betrayal and disorientation towards parents for how their beliefs are being communicated and acted out in society. It is very confusing for young people."
How to Help
Dr. Stone summarizes: "College students are learning how to be their own parent. That is one of my favorite definitions of an adult: someone who is their own mom or dad. Their caregiver would tell them when to go to bed, when to eat, make their doctor appointments, and to go outside and get sunshine. They are learning to give those things to themselves. This work is incredibly important and they often need help learning."
Aid your students in their self-parenting work. Invite your colleagues from the wellness center to meet your class. Spend some time making sure that your students know what resources are available if they, their roommates, or classmates need support. Remind your students that they are surrounded by advocates and allies who are committed to their wellness.
You may also consider circulating, or posting, assistance and emergency resource numbers for your students, including 24-hour helplines for support and emergency services. AFSP also has resources available including: call 1-800-273-8255 or text TALK to 741741.
Dr. Stone emphasizes: "If someone tells you they are having suicidal thoughts, do not be afraid to listen AND do not navigate this alone. Take care of yourself. Make sure you are not the only person in their life who knows it is a struggle. Don't keep secrets. Be honest: 'That sounds so hard. I am so glad you told me. I want to make sure we are not alone in this. Who else could we include in this conversation so we help keep you safe?' If their suicidal thoughts are active and they hint at having a plan do not hesitate to call 911 for help."
Article Topics

Serving Military in HigherEd