August 1, 2016
Preparing for Your First Week on the Job

HigherEdJobs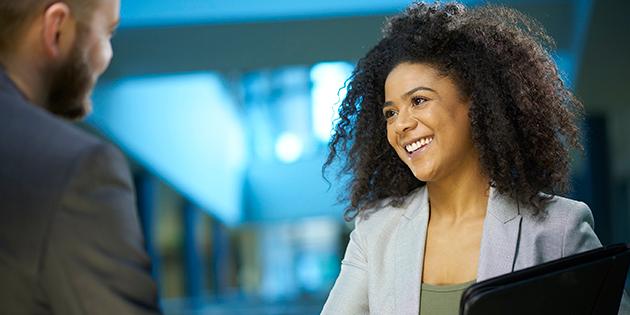 Step one-take a deep breath. You're new, and college campuses are well-versed in welcoming newcomers. Your supervisor likely has an onboarding plan for you, but consider taking these additional steps to minimize your first-day anxiety.
Find Your Resource Person
Most teams operate smoothly because of the oversight of an astute professional who knows all the inner-workings and logistics of the unit. Maybe this is your new boss's assistant who facilitated the details of your interview process. This person likely has all the onboarding information that you need such as how to secure your parking pass, employee identification, and the human resources forms that will get you enrolled and paid.
This person is probably a great resource to whom you can direct your most pressing logistical and cultural questions. Take some time in advance of your start date to think through your questions so that you can reach out to him or her with a comprehensive list.
Two documents that might help you are an organizational chart and a list of acronyms and what they mean. Both will you help you understand your new environment and are worth requesting in advance of your start date.
Dress the Part
You can get a good sense of how to dress just based on your visits to campus. Take your cues from what you saw your new colleagues wearing when you met them. In this case, it's less of a faux paus to be overdressed than underdressed, so for your first week plan to dress on the business formal side unless you've been instructed otherwise.
Enjoy Your Team's Hospitality
Hopefully, your new colleagues will be acquainting you with the great places to dine on and off campus as part of your orientation process during your first couple of days. Even if your preference is to have a quiet, solo lunch, try to muster up your energy to enjoy the hospitality of your new colleagues during your first few days on the job.
While it can feel kind of exhausting not to have a break, a helpful way to manage this is to come armed with questions to ask your new colleagues during lunch. You've been fielding questions ever since you stepped foot on campus. Now you get the chance to be in listening mode.
So find out about how long they've worked at the institution or if they've worked in any other departments. Where did they get their degree? What did they study? It's also interesting to learn if they are taking any classes or if they attend any programs on campus. Ask about pets and hobbies. One of the best ways to make new friends is by being a good listener.
Also, don't forget to ask about institutional perks; for example, if your institution has an exercise facility, pool, or a track that you can use during future lunch breaks.
Learn About Your Team and Your Division
Use the organization chart to figure out how your team operates and who does what. Also examine how your team fits into the greater structure of you institution. Get to know your colleagues. You will probably find that they are eager to help you get acclimated and to talk about the work that they do.
Emilie Cushman, co-founder of
Kira Talent
, advises: "Take the time to get to know the structure of your team and the teams around you. Being able to quickly grasp who reports to who and who approves what work will help you navigate your role successfully with fewer missteps. Book time with people on your team to understand their goals and how you can help achieve them."
Make Your Peace with Transition
Being new is exciting and also a bit humbling. You may get lost. You may feel exhausted. You will need help and support at home and at work. All of this is part of the logistical and emotional onboarding experience. Despite your best efforts to prepare, you have to accept that it is going to take time to learn the ropes and to get comfortable in your new role.
Cushman notes, "In any new job, don't expect to have it down pat in the first month. Although you'll be able to become acclimated quickly, in higher education, things move cyclically, and roles and responsibilities change based on the time of year. You likely won't have seen the full circle of your new job until one full school year has passed."
Be realistic and patient with yourself. Embrace this season of personal and professional growth.
Article Topics
Congratulations on your new job! Usually the conversation where you accept the offer and confirm your salary and start date is busy enough. It doesn't present the chance to pose those nitty gritty questions such as: Where do I park on my first day? What is the office dress code? How do I navigate campus? Where do I eat lunch?