Working as a Veteran in HigherEd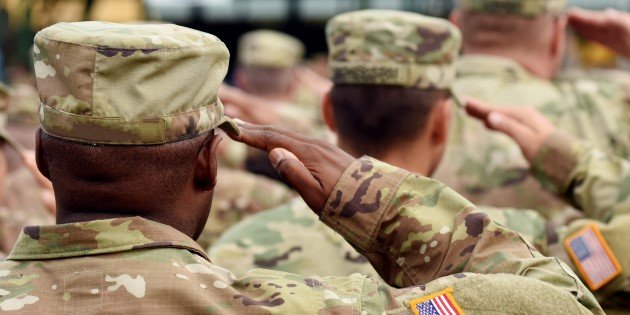 Veterans are an asset to any institution with their leadership talents, drive, and desire to serve. It is important to integrate these aspects of their lives and service into their education.
10/5/20 - NASPA Student Affairs Administrators in Higher Education
The 2021 NASPA Symposium on Military-Connected Students will be held virtually February 25 - February 27. The early registration deadline is December 4, 2020.
9/28/20 - Arizona State University
What Arizona State University is doing to help veterans and elite athletes adjust to civilian life.
9/22/20 - Inside Higher Ed
Four questions for Chris Mayer, associate dean for strategy and initiatives, an associate professor of philosophy at the United States Military Academy at West Point, and a colonel in the U.S. Army.
9/10/20 - Diverse Issues in Higher Education
The Air Force's first female African American fighter pilot is now making her mark on future officers at the Air Force Academy.
9/3/20 - Evergreen State College
After retiring from the military, Ray Mobley now serves in a different capacity, as an admissions counselor at Evergreen State College.
8/16/20 - University Business
Can the discipline, testing, and restrictions at military academies translate for civilian universities?
8/6/20 - SHRM
To be veteran ready, higher education institutions need to break down barriers and stereotypes and have a deeper understanding of veterans in the hiring process.
7/31/20 - Institute For Veterans and Military Families
Military training, personal characteristics, work ethic, and steadfast commitment make student veterans a valuable part of the campus community.
7/30/20 - Texas Tech University System
After a distinguished military career, retired Lt. Gen. Hawkins will be the next president of Angelo State University.
7/27/20 - Military Times
The proposal faces a long legislative road, but would change how for-profit schools retain and recruit troops.
7/25/20 - Institute for Veterans and Military Families
See the employment situation for veterans in June 2020.
7/17/20 - Higher Education Recruitment Consortium
Working in higher education allows veterans to utilize the skills they have developed while serving in the military.
7/17/20 - The Atlantic
Serving in World War II gave Kurt Lang a new outlook on the military, politics, society, and higher education.
7/9/20 - The Hill
Why and how America's military veteran community can fill higher education's leadership roles.
7/8/20 - Penn State News
Hear from senior director for Veterans Affairs and Services at Penn State on the future of veterans affairs.
8/1/16 - HigherEdJobs
Congratulations on your new job! Usually the conversation where you accept the offer and confirm your salary and start date is busy enough. It doesn't present the chance to pose those nitty gritty questions such as: Where do I park on my first day? What is the office dress code? How do I navigate campus? Where do I eat lunch?